Our mission at the Texas Trail Challenge Club is to promote safety and education while building a better bond with your horse.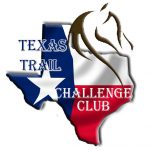 What is a Texas Trail Challenge?
One day judged trail riding event
Trails are 7 to 12 miles over natural terrain
Ten obstacles recorded on a detailed score card
Three divisions with varying degrees of difficulty
Ride awards and points towards year end awards
Spending the day with your horse strengthening your partnership….. priceless
A Texas Trail Challenge is a one day trail riding event with 10 obstacles over 7 to 12 miles. Judges are posted along the trail and in camp to evaluate your execution of obstacles. These scores are marked on your scorecard which will be compared to other riders in your division.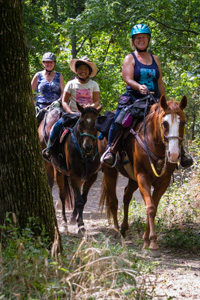 The course is designed using natural obstacles and situations a Rider might encounter on a trail ride. The rider might expect to be judged on opening a gate, maneuvering through a creek, executing an up or downhill. Other obstacles encountered might be: side passing over logs, backing up in patterns, dragging objects, and handling a horse in-hand like sending them into a pond or through a gate. Rider/horse teams are judged strictly on how well they negotiate through an obstacle with an emphasis on calmness and safety.
The riders are divided up into three levels of difficulty and then into age groups. All classes ride the same trail at the same speed. Each rider competes against other riders of similar experience, for 1st to 6th place awards. Awards will be given at the end of the ride along with the score card.  Year end awards are presented for Texas Trail Challenge Members based on the average of a riders top 9 scores of the year.