Our mission at the Texas Trail Challenge Club is to promote safety and education while building a better bond with our horses.
What is the Texas Trail Challenge Club?
As our title says, we are a club — a group of like-minded men and women who love our horses and our friends. We support one another and care for our horses' well-being. Unlike a truly competitive organization, we treat one another like family. We like to say that TTCC is our "tribe." When one person advances and excels, everyone is proud of them.
While ribbons and prizes are handed out after each ride, there is more a feeling of camaraderie than that of competitiveness in this club. Year End awards are presented at what we call Celebration. We like to win, but we want to celebrate bettering our horses and our horsemanship more.
What is a Texas Trail Challenge?
Trails are 7 to 10 miles over natural terrain.
One day judged trail riding event. There are usually two rides on each scheduled weekend (Saturday and Sunday).
Ten naturally occurring obstacles, or man-made obstacles that simulate what a rider may encounter on a trail.
Three divisions (also divided in age groups) with varying degrees of difficulty. Youth compete in the easiest division but may move up if they wish.
Detailed scorecards and judge's briefings after each ride to help rider and horse become a better team.
Prizes after each ride with points accumulating toward year-end awards.
A Texas Trail Challenge is a one-day trail riding event with 10 obstacles. The obstacles are placed along a trail 7 to 10 miles long with judges posted at each obstacle to evaluate riders' execution of that obstacle.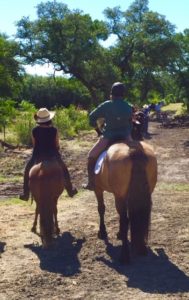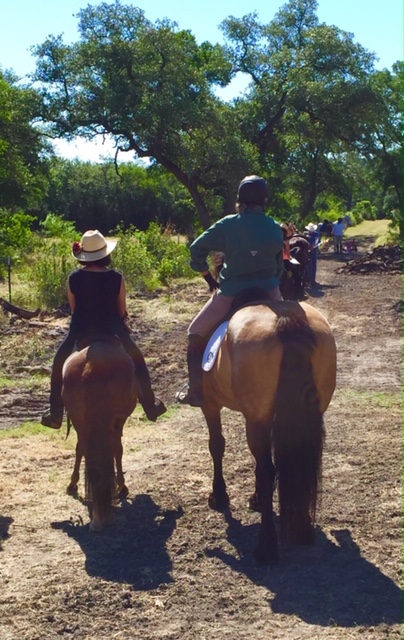 Riders are divided into three divisions (levels of difficulty) and then into age groups. All divisions ride the same trail. Trails are usually covered at a walk, but riders are allowed to move down the trail at a faster pace if they feel comfortable and do not upset other riders. The rides are neither a race nor are they timed.
Judges' evaluations are marked on scorecards. These scorecards are compared in the same division for placings and are then presented to each rider at the judges' briefing. The judges' briefing is like mini-clinic after each ride, where ideas about how to better perform the obstacles are given.
A trail challenge is designed using natural obstacles, or man-made obstacles that simulate what a rider may encounter on a trail. Some obstacles may include maneuvering through a creek, opening a gate, executing an up or downhill. Other obstacles encountered might be side- passing over logs, backing through patterns, dragging objects and handling a horse in-hand such as sending them into a pond or over a small jump.
Each rider/horse team is judged on how well they negotiate an obstacle. Emphasis is on teamwork, safety, willingness/calmness of the horse as well as the rider's cues and balance to help their horse complete the obstacle.
TTCC usually hosts 20 or more separate trail challenges (rides) during a year, held at private ranches, horse camps, and state parks. Locations are as far east as Bullard, as far west as El Dorado, as far north as Decatur and as far south as Three Rivers.
Some ride locations have horse pens and hookups for living quarter trailers. Some have cabins for rent. Other locations are primitive camping only where horses must be high-tied or put into portable pens brought by their owners.